Get Started with
Clark & Washington
---
Our bankruptcy attorneys are here to help in this time of stress.
Call our offices at (813) 345-5954 to make an appointment for a FREE consultation or fill out the form to the right and we will contact you.
Get in Touch!
If you would like us to contact you, please provide the following information:
Locations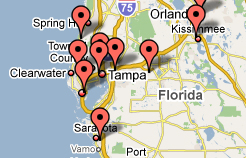 Foreclosures Stopped! Lawsuits Stopped!
Repossession Stopped!
We do the work for you:
We complete all paperwork.

We request your tax transcripts.    

We attend all of your court hearings.

Credit Counseling done in our office.

Credit reports obtained same day.