Emergency

Chapter 13

Information
---
My Home is Scheduled to be Sold on the Courthouse Steps Next Week – Is there Anything I Can Do to Stop the Foreclosure?

Once my Mortgage Lender Starts the Foreclosure Process, Can I Stop It Without Having to File Chapter 13 Bankruptcy?
Florida foreclosure proceedings are non-judicial in nature. This means that your lender can institute foreclosure proceedings that will result in the sale of your home on the courthouse steps, all without having to go to court.
The foreclosure process begins with a "default."  Under the terms of your home loan, you agree to make regular payments (usually every month).  Your loan most likely also provides that if you miss a payment, your loan is considered "delinquent."  Usually, mortgage companies will allow a two or three month delinquency before declaring that your loan has gone into default.
Your mortgage loan agreement specifically describes what is meant by a default.  Every loan is a little different but as a rule, when a loan goes into default, the entire unpaid balance is declared due.  Under such an "acceleration clause" you would, upon default, owe hundreds of thousands of dollars.
Now if you happen to win the lottery and have several hundred thousand dollars sitting around, you can pay off your loan.  Assuming that this is not the case, your failure to tender the full balance within a set time (such as 7 or 14 days) will result in the start of a formal foreclosure process.  If you have failed to abide by the terms of your installment loan and if you do not have the cash to pay off your mortgage, the foreclosure is the process by which your mortgage company takes title to your property away from you.
Once a loan is accelerated and the file turned over to a foreclosure lawyer, it is very difficult to stop the process.  We sometimes speak with clients who are communicating with their lender even after the foreclosure advertising is going on.  Sometimes lenders will agree to stop the foreclosure if very specific terms are met.  However, it has been our experience that actually hammering out an agreement that stops a foreclosure is very difficult.  Several of our clients report that they felt that the lender was leading them on about the possibility of stopping foreclosure, only to receive a final "no deal" a day or two prior to the actual foreclosure.
We are not saying that negotiated deals to stop an active foreclosure is impossible, but we advise you to be very careful not to allow too much time to pass, and certainly do not assume that a deal can be struck while you do nothing to prepare for the bankruptcy option.
We have also heard from clients about "foreclosure relief" companies that promise to intervene on behalf of homeowners to stop foreclosures.  Here, too, you should be very careful.  Check the reputation of the company with the better business bureau.  Ask for references.  Any by no means discount the possibility that you may need to file a bankruptcy should negotiations break down or if the foreclosure relief company disappears.
Can I Stop Foreclosure?
If you are truly facing a foreclosure emergency – and your house may be sold on the courthouse steps in a matter of days, we strongly recommend that you seek legal help rather than rely on promises of a "deal" from your mortgage company or help from a "foreclosure prevention" company that you hear about on the radio or on TV.  
Foreclosure emergencies call for the services of a law firm that has the experience and know how to deal with this threat to your home.
Obviously the sooner you can contact us to discuss your possible Chapter 13 the better.   You can call us at (813) 345-5954.
If you are facing a foreclosure sale next week, you do not have much time to act.  Assuming that you do not have the funds to pay off your mortgage, your only real option to stop the foreclosure involves filing a Chapter 13 bankruptcy reorganization.
Chapter 13 stops foreclosures by creating an "automatic stay" as to all collection actions by creditors, including foreclosures, repossessions and wage garnishments.  The automatic stay is the core protection of bankruptcy and judges will usually take a firm stand to protect the integrity of the bankruptcy stay.
Chapter 13 = Automatic & Immediate Stop to Foreclosure Process
The automatic bankruptcy stay goes into effect the minute you file your Chapter 13 case – even if that filing is 10 minutes prior to the foreclosure sale and the foreclosing mortgage company is not aware that you have filed.  All lenders are expected to abide by the say – if they take adverse action not knowing that you have sought bankruptcy protection, your judge will allow them a few days to "undo" whatever it is they have done – if the creditor does not take remedial action quickly, it can be held liable for damages.
Although the automatic stay offers very strong protection, it does have some limits – for example if you have previously filed a Chapter 13 case, the stay will only go into force for 30 days and you will have to appear before the judge to argue for an extension.  If you have filed two or more cases within the past year, the automatic stay will not go into effect at all and your Chapter 13 filing will not stop a foreclosure.  Your Clark & Washington lawyer can evaluate your debt situation and advise you if there are any automatic stay issues present.
You must also have a credit counseling certificate before you can file a Chapter 13 case.  You can read more about the credit counseling requirement by clicking on the link.  You should assume that it may take a one to three days to obtain a credit counseling certificate, so if you are dealing with a short time frame, you should immediately start the process of obtaining a credit counseling certificate.  Click on the link to learn more about the credit counseling requirement.
Call Clark & Washington for Your Foreclosure Emergency
Because bankruptcy representation is all the we do here at Clark & Washington, we are uniquely positioned to help clients facing foreclosure emergencies.   Our firm files over 500 bankruptcy cases each and every month and we have earned our reputation as Florida's largest filer of personal bankruptcy cases.  We accept cases that other lawyers will not handle and many of our Atlanta area colleagues refer us "last minute" Chapter 13 cases.
Are There any Government Programs Available to Me that Can Stop my Foreclosure?
When you read the newspapers and watch TV, you will hear commentators talk about the "foreclosure crisis."   We have done some research and the statistics about foreclosure in Florida and around the nation are unsettling to say the least:
Nationally, one out of every two hundred homes will go into foreclosure this year (source: Mortgage Bankers Association)
43% of American households spend more than they earn each year (source: FDIC data sheet)
42% of American households do not have enough liquid assets in an emergency fund to last three months in the event of a job loss
Most foreclosures are triggered by a job loss or a medical crisis (source: Homeownership Preservation Foundation)
Florida consistently falls within the top ten in terms of the number of pending foreclosures
Florida is second only to Tennessee in the number of foreclosures per resident – 5.45 per 1000 residents
The federal government has instituted several programs to help stem the tide of foreclosures, but these programs have had limited effect because most of these programs rely on voluntary actions by banks to refinance or restructure loans, and these mortgage lenders have not been enthusiastic about taking these voluntary actions.  According to the National Association of Consumer Bankruptcy Attorneys (NACBA), government foreclosure programs have done very little to reduce the numbers of foreclosures.
The HUD website at offers a number of counseling resources and information pages.
Our experience at Clark & Washington has been that foreclosure prevention programs that rely on voluntary loan modifications by mortgage companies just do not work.   From our standpoint, the biggest issue has to do with time – it can take four to six months for a loan to be considered for a modification, during which time that loan grows more and more delinquent. 
If the modification is refused or if the terms are not favorable, our client ends up looking at Chapter 13 to stop a foreclosure, but with an additional six months or more missed payments that have to be absorbed in the Chapter 13.
Our position remains – if you are facing a potential foreclosure, seek personal legal attention from a law firm like Clark & Washington that has your interests at heart and that understands the bankruptcy laws thoroughly.
What are the court filing fees?
Presently, the court charges a fee for filing chapter 7 of $335.00. The court's filing fee for chapter 13 is $310.00.
How do I get started?
Call our office at (813) 345-5954 to set up a FREE consultation with one of our bankruptcy specialists.
Get in Touch!
If you would like us to contact you, please provide the following information:
Locations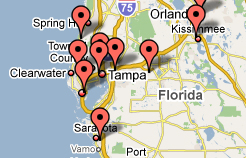 Foreclosures Stopped! Lawsuits Stopped!
Repossession Stopped!
We do the work for you:
We complete all paperwork.

We request your tax transcripts.    

We attend all of your court hearings.

Credit Counseling done in our office.

Credit reports obtained same day.