Tampa
Bankruptcy Services
---
At Clark & Washington, personal bankruptcy is our only practice. For more than 25 years, we have concentrated on chapter 7, the chapter of the Bankruptcy Code that provides for the sale of a debtor's nonexempt property and the distribution of the proceeds to creditors, and chapter 13, the chapter that allows an individual with regular income to keep property and repay debts over time—usually three to five years.
From your initial consultation to your final court hearing, Clark & Washington will provide legal services tailored to your unique financial situation and will thoroughly explain every step of the process along the way.
Get in Touch!
If you would like us to contact you, please provide the following information:
Locations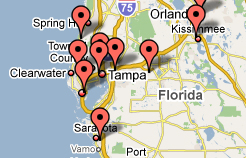 Foreclosures Stopped! Lawsuits Stopped!
Repossession Stopped!
We do the work for you:
We complete all paperwork.

We request your tax transcripts.    

We attend all of your court hearings.

Credit Counseling done in our office.

Credit reports obtained same day.