How Much Will it Cost to
Start Chapter 13 or Chapter 7?
---
At Clark & Washington, our philosophy has always been that the issue of attorney's fees should never stand between you and the bankruptcy relief you need.
Chapter 7 Costs

Chapter 13 Costs
Filing Costs:  For a Chapter 7 Bankruptcy, the federal filing fee is $335.00. A credit counseling certificate is required to file, $45.00 (this fee includes both the pre-filing and the pre-discharge counseling). This counseling may be done at our office while we are opening the file.
We can also obtain your credit report for $20.00 for a single report, $40.00 for a joint report. This is not mandatory but we find it to be very helpful if you don't have a complete and accurate list of creditors.
Attorney's fees:  Clark & Washington charges $1,250.00 for attorney's fees in a routine Chapter 7 case. 
To sum it up, the cost to file a Chapter 7 consists of the Filing fee of $335.00, the credit counseling fee of $45.00, and our attorney's fees of $1250.00, for a total of $1630 for a standard Chapter 7 Bankruptcy. 
You may pay attorney's fees and costs by cash, personal check, debit card, money order or checks from a third-party.  We can also open a file and hold it open until all the fees and costs are paid; at which time we will file your case.
Although our standard fee of $1,250.00 applies in 90% of our cases, this fee can vary (both up and down) depending on a number of factors such as:
the total amount of debt
the type of debt ( secured debt, judgments, credit cards, taxes,

student loans

etc…)
the amount and type of assets
whether you owe either priority or stale taxes
the number of pieces of real estate owned
Filing Costs:  The cost to file a Chapter 13 Bankruptcy will be the Federal Court filing fee of $310.00 ($74 partial payment to file, remainder is paid thru the plan) plus the credit counseling fee of $45.00 (this includes both the pre-petition and pre-discharge counseling) for a total of $355.00.
Attorney's Fees:  All attorney's fees for a Chapter 13 are routinely put into the repayment plan. The Chapter 13 Trustee will pay the attorney's fees on a monthly basis along with the other creditors. Chapter 13 costs can also vary so we strongly recommend a free consultation with one of attorneys.
Get in Touch!
If you would like us to contact you, please provide the following information:
Locations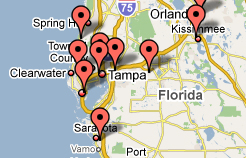 Foreclosures Stopped! Lawsuits Stopped!
Repossession Stopped!
We do the work for you:
We complete all paperwork.

We request your tax transcripts.    

We attend all of your court hearings.

Credit Counseling done in our office.

Credit reports obtained same day.